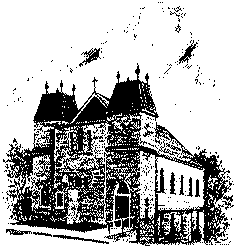 Lansdowne Christian Church
(Hull Memorial)
101 Clyde Ave. Lansdowne MD 21227
410-242-4821
Who are the Disciples? The Christian Church (Disciples of Christ) is a community of about 850,000 Christians in 3,800 congregations in the United States and Canada. Two groups of frontier Christians came together in 1832 to form the foundation of today's Christian Church (Disciples of Christ). They shared the view that people should not be excluded from fellowship in the church because they didn't adhere to a particular human-made creed. They used to say there is "no creed but Christ." Today's Christian Church (Disciples of Christ) still thinks that way.
We study the Bible to deepen our connection to God through Jesus Christ, and to discover what God wants us to do. We believe that God is calling the Christian Church (Disciples of Christ) of the 21st century to be a faithful, growing church that demonstrates true community, deep Christian spirituality and a passion for justice. Our mission is to be and to share the good news of Jesus Christ, witnessing, serving and loving from our doorsteps to the ends of the earth. We are devoted to strengthening our congregations for this mission.
Many Disciples have conservative views. Many others have liberal views. But we share the belief that we are united in our faith that "Jesus is the Christ, the Son of the Living God, the Savior of the World."Two really important things to Disciples are communion and baptism. We celebrate communion, or the Lord's Supper, each time we get together to praise God. We like it when there are a lot of different people at communion. We believe that Christ heals the pain of human separation around the communion table. People who become Christians in a Disciples congregation do a couple of things. First, they say "I believe that Jesus is the Christ, the Son of the Living God, and I accept him as my personal Savior." Then, usually on another day, they are baptized - that is, they are dunked fully under water in a small pool right in the church. When they come up they are new people in Christ and their congregation pledges to support them and help them grow into a deeper relationship with God through Jesus Christ. People who have been baptized in another way in another Christian tradition are welcome. They don't have to be dunked to get in. Disciples' congregations own their own property and have full control of their budgets and program. They decide whom to call as a pastor. Pastors may be men or women.
The Christian Church (Disciples of Christ) does a lot to help people in need in North America and around the world. It also is very active in developing relationships and ministries that try to bring together Christians from a variety of traditions.