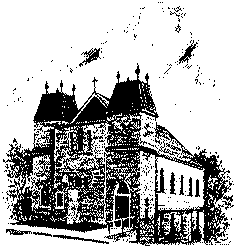 Lansdowne Christian Church
(Hull Memorial)
101 Clyde Ave. Lansdowne MD 21227
410-242-4821
The building is a late example of Gothic church design. Of particular interest are the three stained-glass memorial windows, which were presented to the church on October 22, 1905, by the Department of Maryland Grand Army of the Republic. Three major changes that altered the original external appearance of the church took place during the first fifty years. The first was in 1930 when the new Moller organ was purchased. The front of the church had to be altered to accommodate the pipe chamber. The second change was an addition to the rear of the building.
The third major change to alter the appearance of the church took place in October of 1951 when the bell had to be lowered from the steeple due to unsafe conditions. The bell was then raised to a position of dignity upon a stone campanile erected in front of the church at a cost of approximately $1100. This bell, purchased from Meneely, Troy, New York, on February 20, 1904, is inscribed "Lansdowne Christian Church, Lansdowne, Maryland."
Some of the interior changes that occurred in the first thirty years were the installation of both electricity and central heating. A few changes were made in the church sanctuary when the Moller organ was added. By the early fifties the old flooring in the Sunday School rooms and the adjacent stairway to the sanctuary had begun to rot and had become hazardous. In December of 1952 the flooring was replaced with a concrete slab which was covered with asphalt tile in 1953. The stairway was also replaced. The kitchen was moved to the room that had been added to the rear of the first floor and was remodeled. By this time natural gas was available as a public utility, and the current heating plant was upgraded in September of 1952 with a modern gas-fired boiler. Because of faithful stewardship, time, and a lot of hard work, all the improvements (which cost thousands of dollars) were realized without the necessity of borrowing any funds. Recent modifications included refurbishment of the Stain glass windows and pews.
Then in 1994 the Moller organ was replaced by a 3 manual Rogers Organ. The pipe chamber was opened up to reveal the main GAR stained glass windows and new casework was built for the pipes. Also at that time, the sanctuary was renovated with a ceiling design and gold leaf trim now encompasses the room.