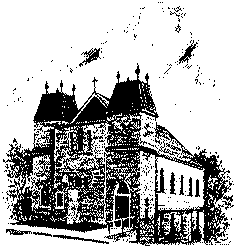 Lansdowne Christian Church
(Hull Memorial)
101 Clyde Ave. Lansdowne MD 21227
410-242-4821
In June of 1975 the Lansdowne-Baltimore Highland Bicentennial Committee requested the use of the Lansdowne Christian Church (Hull Memorial) as a mini-museum. This undertaking was chosen as the area project for the nation's bicentennial celebration in 1976. Permission was granted for one of the Sunday School rooms to be used to display mementoes of the Grand Army of the Republic as well as historical items concerning the church and the community. The Heritage Committee of the Lansdowne-Baltimore Highlands Bicentennial Committee planned that the museum would become a permanent part of the church. A dedication service was held on October 26, 1975. As a result of this project the Lansdowne Historical Society was formed, with Frances Bannan as president. Mainly through the efforts of Mrs. Bannan, Howard Olver, and Robert Tolson, the United States Department of the Interior, on September 15,1977, placed the Lansdowne Christian Church (Hull Memorial) on the National Register of Historic Places.
The following resolution was passed in the Maryland General Assembly on February 24, 1978:
Be it hereby known to all that The Senate of Maryland ojjers its sincerest congratulations to LANSDOWNE CHRISTIAN CHURCH (HULL MEMORIAL) in recognition oj the celebration of their 75th Anniversary and the honor of being accepted onto the National Register oj Historic Places by the Maryland Historic Trust.