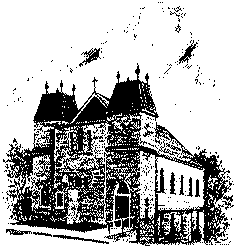 Lansdowne Christian Church
(Hull Memorial)
101 Clyde Ave. Lansdowne MD 21227
410-242-4821
LANSDOWNE CHURCH BELLS
​
Joe Hull, grandson of Chas. W. Hull, wrote in his "Remembrances" that as a child, entering the Cradle Roll in 1906, he remembered our church as having the largest bell (approximately 600 lbs.) with the prettiest tone. The bell was mounted in the tower above the church.
In 1952 the tower began to lean and the bell had to be removed. That same year a stone structure was erected in front of the church to house the bell as well as to provide a bulletin board. The bell was then rung every Sunday morning to signify the beginning of the worship service.
After several decades the clapper was removed from the bell because neighborhood kids would ring the bell at inappropriate times during the week. The bell remained quiet for many years afterwards until 2002 when Carroll O'Brien built a hand mallet to manually strike the bell.
Vernon L. Neilson (Sonny) grew up just a block from the church, which he attended for 81 years, excluding the 2 ½ years he spent in the US Navy. After his discharge from the Navy, Sonny served the church in every capacity: Board Chairman, Treasurer, Secretary, Outreach Chairman and Choir Member. In addition he was active in the Disciples of Christ - Chesapeake Consultation as President of the region and also participated in the planning of the Bethany House in Rockville, MD. However, the thing that Sonny was most remembered for in the community was greeting the people before entering the church. Both Carroll and Sonny would share the responsibility of ringing the bell on Sunday mornings.
After Sonny passed away in 2013, Carroll has been the faithful bell ringer to date.
In Sonny's memory, a Digital Carillon Bell System has been installed as well as an automatic ringer for our real historic bell. Credit must be given to Sonny's eldest son Randy, who has served as our organist for forty-five years. Randy was instrumental in the research, purchasing, installation, and programming of the bell system.
The system will now give our church a noted presence in the community during the hours of 9:00 a.m. to 7:00 p.m. daily by playing hourly-strikes, and two patriotic songs in keeping with the church's historic heritage. The system will also play a call to worship hymn and ring the real bell on Sunday mornings.
This bell system has been donated as a memorial to Sonny and it is my hope that the community will embrace the presence of these bells as part of their heritage.
​
Lois Neilson
March 2017
​
If you are located in the area, we would appreciate your feedback by asking you to take a few minutes and complete our community survey form.