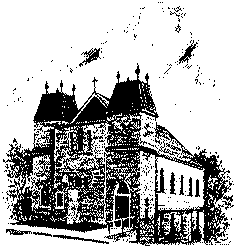 Lansdowne Christian Church
(Hull Memorial)
101 Clyde Ave. Lansdowne MD 21227
410-242-4821
Weekly Sunday Morning Services:
The church has regular Sunday morning services beginning at 10:00 a.m. Services begin with an informal hymn sing with a more traditional service to follow. After worship, a discussion group forms downstairs with coffee to discuss theology, currently issues, the daily message, and other related topics. On the first Sunday of the month, cakes and goodies are also served.
Community Lent Services:
Throughout the weeks of lent, churches in the Lansdowne community offer Wednesday evening ecumenical services. These events start with a pot-luck dinner beginning at 6:00.p.m. and continue with a service following at 7:00 p.m. Schedules and locations are posted at each participating church each year.
Easter Services:
A gathering of the local churches meet on the patio Palm Sunday for a short service beginning at 9:30 a.m and then walk to their respective churches waving palms. In addition to the traditional Palm Sunday and Easter Service as part of the regular Sunday Services, Maundy Thursday (at Lansdowne Christian Church), and Good Friday services (at Christ the Solid Rock Baptist Church) are offered beginning at 7:00 p.m.
GAR Memorial Day Service:
As part of the regular Sunday service, a Special Memorial Day Service is conducted in honor of the Veterans of Foreign Wars on the last Sunday in May.
Christmas Eve Service:
Special Christmas Eve Service is held at 7:00 p.m.