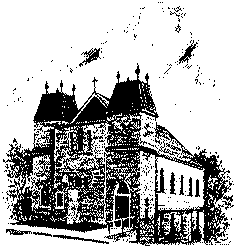 Lansdowne Christian Church
(Hull Memorial)
101 Clyde Ave. Lansdowne MD 21227
410-242-4821
REMINISCENCES
In order to preserve some of the interesting accounts of our early church Mr. C. Joseph Hull, the grandson of Chas. W. Hull (founder) was asked to put on paper some of his remembrances of the past. The following article was prepared by Mr. Hull.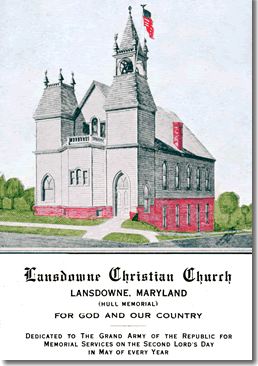 Naturally we are all very proud of our church being placed on the National Register of Historic Places by the United States Department of the Interior because it was the only church to be dedicated to the Grand Army of the Republic. There are many things concerning our church that should imbue us with a feeling of pride, but since we are all familiar with everything concerning our church in recent years, I will just relate some of the things that impressed me about the early days of our church. Our church was built in 1903. I was entered on the church's cradle roll in 1906 and have belonged to this church all of my life. As a child I attended church at least three times a week, quite often involuntarily, so I am familiar w i t h t h e early history of our church. As a child, I knew that our church was the best church in t h e community to belong to. This appraisal was not determined by any religious or worship standards; it was based on the physical features of the church building and grounds and on our nonreligious activities.
Our church had the largest bell with the prettiest tone, the finest and most historic stained-glass windows, the best pipe organ, the most beautiful sanctuary and best acoustics of any church in Lansdowne. The oval shaped ceiling of our sanctuary was really something to behold. It was painted with realistic looking stars and clouds on a sky blue field, which actually gave me the feeling that I was looking at the sky. A very large circular brass candelabrum, which contained at least a dozen brass based lamps, hung from the center of the ceiling, which further enhanced the beauty of the sanctuary. Behind our church was a large grove of well-spaced shade trees which provided an ideal site for our outdoor activities. Our church also has another unique feature. The entrance to the sanctuary is in the front. This was to discourage people from coming in late. If they were embarrassed by being late, they would sit down as soon as possible in the front; therefore, the preacher would not have to shout to be heard.
In those days there were very few sources of entertainment. This was before the era of radio, T. V. and the "talkies," so our lawn fetes and strawberry festivals were really big social events. We had the ideal spot and the best facilities for holding these affairs. Between the church and the grove of trees was a large shed that housed benches, sawhorses, and table tops which were used for these events. The table tops were placed on top of the sawhorses, which made suitable tables, and of course the benches were placed on each side of the tables. Our Fourth of July celebration actually was a lawn fete in the early evening with a fireworks display after it got dark.
Our church had an eleven-piece orchestra conducted by Professor Charles, who also taught some of its members how to play their instruments. Our young adults had a dramatic club. I probably am using this term loosely, but they did stage several entertainments in the Sunday School room and they put on a Christmas cantata in the church on two occasions which everybody enjoyed. Then we celebrated Grand Army Day, the community's biggest event of the year. When I was a child, the second Sunday in May was known in Lansdowne as Grand Army Day. Each Grand Army Veteran wore a carnation. A special train brought these G.A.R. Veterans and a contingent of V.F. W. (Spanish American War and Boxer Rebellion Veterans) to Lansdou~new, here they were met by the Lansdowne Band, Lansdowne V.F. W., several units of the Boys Brigade, the St. Mary's Industrial School Band, and several drum and bugle corps. They paraded to the church where the G.A.R. Veterans, all more than seventy years old, entered our church for services while the rest of the parade proceeded through Lansdowne. After the service the G.A.R. Veterans were served dinner in our Sunday School room by our Ladies Aid. The visiting V. F. W. were fed at the homes of our local V.F.W. members. After dinner the G.A. R. Veterans retired to the picnic grove behind the church, where tables and benches had been set up for their evening meal, and they socialized and reminisced with their fellou) comrades. Later they were joined by the V.F. W. and they all participated in memorial and military ceremonies which were very impressive to me. A drill team performed. The speeches were stirring and delivered by very able speakers. In front of the tables was a campfire under a huge iron Civil War mess kettle that was suspended from a tripod. At the conclusion of the ceremonies the veterans were served dinner in the picnic grove, after which they all met at the railroad station and boarded the train for Baltimore.
In those days we were a full-time church. On Sundays we had Sunday School and church in the morning, Young Peoples meeting at 7 p.m., and church again at 8 p.m. Prayer meeting was held on Wednesday night and choir rehearsal was Thursday night. The Ladies Aid met frequently, for they were the backbone of the church. They staged the lawn fetes, strawberry festivals, and numerous church suppers which provided much of the income needed to run the church. Members of the Ladies Aid not only visited the sick, but they often took food to the sick and the needy. We had a very good choir under the direction of Cook Brown, an accomplished musician who played the pipe organ very well. He devoted a large portion of his life to our church. 1 was the assistant organist. In those days air had to be pumped into the organ manually, so I assisted the organist by pumping air into the organ while he made the music. Actually, I was only a substitute assistant organist. The varsity assistant was a mentally retarded man named Otto, who walked all the way from Halethorpe, rain or shine, every time there was a service. They gave him the title of assistant organist, which he really cherished. Once he was laid up with a broken leg, and sometimes the weather was too bad for him to get there. That is when I was pressed into service. The organ was very large; t h e pumper sat behind the organ and couldn't see anything that was happening. His sole function was to keep t h e proper amount of air in the organ and to be sure that the needle on the air guage didn't go below a certain mark. This, of course, presented a challenge to me to see just how far below this mark I could let the needle go before it affected the organ music. I found out several times, and I also found out that Cook could get mad. After he chewed me out, he appealed to my pride by telling me that if I applied myself I could be just as good as the retarded guy.
Prior to 1920, seven different preachers served our church. None of them had a divinity degree; in fact, preaching was an avocation. It seemed to me that they were all hell and brimstone preachers who thought that their mission was to stamp out evil rather than preaching love for God and your fellow man. This was the era when all Protestant Churches were making a concerted effort to stamp out the evil of drink. Of course, they were ultimately successful in having a law passed which prohibited the sale of alcoholic beverages. I liked Sunday School where I learned that Jesus loves me, he is forgiving, and if I am fundamentally good I will go to heaven when I die. But very often church was scarey to me. All of the preachers were quite adept at painting a graphic picture of the tortures of hell and in assuring us that if we incur the wrath of God we will be doomed to an everlasting life in hell. About 1920 the Christian Temple, our mother church, started to furnish us with ministers. They were members of Peter Anslie's Bible class. Peter Anslie, minister of the Christian Temple, was a nationally known religious teacher, leader and minister, and his pupils were all able disciples of Christ. They preached that we should be God-loving rather than Godfearing. The first two men sent by the Christian Temple were Rev. G. Groscup and Mr. Frank Richardson, both of whom were inspiring to me and I think to the whole congregation. Then something great happened to our church; they sent us Rev. Clarence M. Cook. Rev. Cook worked in the Post Of/ice, but he was also very dedicated to his ministerial work. The more he was with us, the more we all loved him and the more he loved us. After he retired from the Post Office in 1944 he became our full-time minister, and he and his wife devoted their whole lives to our church. I am sure that he influenced us all to lead better lives and to believe that being a Christian is a great joy. I think that all the members of our church who knew Rev. Cook benefited from their association with him. For anyone who has lived his entire life enjoying our modern conveniences, it is difficult to realize the amount of effort that was required to conduct any affair in the early days of our church. Now we turn on a switch to get light, turn up the thermostat for heat, turn on the faucet for water, turn on the air conditioner or electric fans to get cool and turn them off when we are finished with them. But things were very different in those days. I will try to relate some of the inconveniences and discomforts that our early congregations endured. The church was heated by two large pot-bellied stoves (minifurnaces). One was situated on the east side and the other on the west side of our Sunday School room with pipes leading from the top of each stove to registers in the sanctuary. These stoves heated the sanctuary satisfactorily and though each stove was encased by a large galvanized metal cylinder that was supposed to shield those who were in close proximity from the intense heat, it was not too effective. Quite of ten some of us youngsters would leave the Sunday School with one rosy cheek. When there was a day and a night service in the church, coal was burned in these stoves, but when there was only one service we just had a wood fire. The wood that we burned was discarded crossties. This meant that these ties had to be hauled to the church from various places along the railroad tracks, sawed by hand, split, and then stored in our storage shed. When we made a coal fire, the person who made the fire had to arrive long before Sunday School started and build a wood fire first in each stove, then after the coal started to burn, more coal was added until there was a good coal fire. This fire had to be maintained until the evening service was concluded. Most people who burned coal sifted the ashes in order to retrieve some of the partially burned coal, so I assume that we did the same thing.
Our church was illuminated by oil lamps. Before the congregation arrived for the evening service, the large circular brass candelabrum in the sanctuary had to be lowered from the ceiling, each lamp lighted, and then the candelabrum raised to the ceiling again. After everyone left, the candelabrum had to be lowered again and the lights extinguished. These oil lamps required a lot of care. I guess there were about 25 lamps that had to be filled with coal oil, the globes washed and the wicks trimmed periodically in addition to keeping the huge brass candelabrum (which contained a lot of filigree) and the brass bases of the lamps polished. The ladies cooked the church suppers on two oil stoves in a non-ventillated kitchen which is now used as an office in the Sunday School room. There was no running water; all the water for drinking, for cooking, and for washing dishes had to be carried from the pump of a nearby house, about 100 yards away. In hot weather, the ladies fanned themselves in an effort to keep cool. This must not have been considered a masculine act for I can't recall ever seeing a man fan himself in church. T h e m e n just sat there and sweated. I probably should have said "perspired," but that wet stuff that was rolling off their faces, down their necks and wilting their high stiff collars certainly looked like sweat to me. I hope that this article provides some insight of the conditions that we enjoyed in "The Good Old Days" and the reasons for the pride I experienced in my church when I was a child. In retrospect as I think about my church life, I become more aware of the dedication and loyalty of our early congregation. When I realize that the average salary in those days was probably less than $15 per week and that people worked six days a week, 10 hours or more per day, I am amazed at the portion of their free time and money they gave to the church. I more fully appreciate the guidance, the teaching, and the examples set for me by members of the early congregation. I am certain I was helped to become a better and happier man than I otherwise would have been. I am very grateful to and proud of our early congregation.
C. Joseph Hull