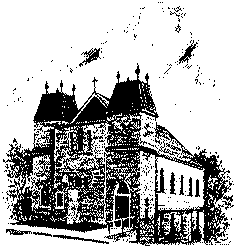 Lansdowne Christian Church
(Hull Memorial)
101 Clyde Ave. Lansdowne MD 21227
410-242-4821
The Church was added to the Maryland Civil War Trails in 2004 thanks to the efforts of Robert E. Reyes, President - Friends of President Street Station & Co-founder- Baltimore Civil War Museum.
The plaque outside of the church reads:
This church is testament to the love of the men of the Union by one Veteran of the Civil War. Charles W. Hull and his wife Mary A. Hull, gave the ground and the building as a memorial to the men who fought to preserve the Union. As part of the original deed it was stipulated that on the 2nd weekend in May a memorial service be held in the church. The first memorial service was held on May 14, 1905. On October 22, 1905 a ceremony was held for the presentation of three stained glass windows. General Richard N. Bowerman, Commander of the Department of Maryland, "Grand Army of the Republic," presented on behalf of the department a stained glass window depicting the likeness of the "Grand Army" membership badge. This can be seen above the altar of the church. At the rear of the church are two stained glass windows. One is dedicated to the Dushane Post #3 of the "Grand Army" and was a gift from the post. The second window is dedicated to the Dushane Corp #3 of the Woman's Relief Corp and was a gift of the Corp. On "Grand Army Day," the men were brought from Baltimore via the B & O Railroad. A grand parade was held through the streets to the church. After the service dinner was served by the ladies of the church. The old soldiers gathered in the church picnic grove for an evening of sharing stories and remembrances. In 1978 this church was designated a National Historic Landmark.