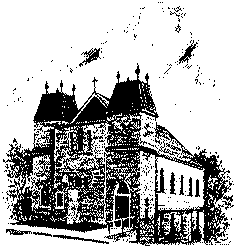 Lansdowne Christian Church
(Hull Memorial)
101 Clyde Ave. Lansdowne MD 21227
410-242-4821
Forming of the Congregation
On January 4, 1903, the Reverend W. J. Wright arrived at Lansdowne to conduct a series of revival meetings. He was so successful that he extended his visit until February 7, 1903. At the close of these meetings he composed and introduced an organization paper, which was read. This paper covered the belief of the converts, also laying down the foundation for the same. It was as follows:
"We, the undersigned, followers of the Lord Jesus Christ, do hereby agree to organize ourselves into a congregation for the purpose of worshipping and serving the Living God through His Son, our Saviour, Jesus of Nazareth. Since we believe that the Bible contains the only revelation of God's will to us, we agree to reject all human statements and standards of faith and recommend the Bible as our only book of authority in religion and our only rule of faith and practice in this congregation. "Creed.—Our only creed is Jesus of Nazareth, the Christ, the Son of the Living God."Since we believe that Bible thingsshould wear Bible designations,we agree to call this congregation none but Bible names, such as Churchof God, or Church of Christ, etc. We agree to wear only the names found in the New Testament applied to the followers of Christ, such as Friends, Brethren, Saints, Disciples, Christians, etc. We agree that all persons desiring membership are admitted to the membership on the terms and conditions set forth in the New Testament by the inspired Apostles. .These conditions we believe to be: (a) Faith in Jesus of Nazareth as the Christ, the Son of the Living God. (b) Sincere and honest repentance for sins. (c) A public confession of faith in Jesus which includes an avowal to follow Him. (d) Baptism, by which we mean immersion, into the name of the Father, Son and Spirit. We agree to keep the ordinances of the Church—Baptism and Lord's Supper—both in the manner and spirit of the Apostolic Church as set forth in the New Testament. We agree to contend earnestly for the faith once for all delivered unto the saints, to do what we can to send and take the Gospel of the Grace of God to the whole creation, to try earnestly and persistently to walk with God and bring forth in our lives the fruit of the Spirit, to deny ungodliness and worldly fusts and live soberly, righteously and Godly in the present world, to be gracious of good works, and to seek God's will as it is done in heaven. Praying the Father's blessing and favor upon all men everywhere, and that He will guide us while we strive to carry out these resolves of our hearts, we hereunto affix our names."
This was finally accepted on the evening were present signed the organization papers, as of March 1, 1903, and all those who follows:
Mr. T. W. Ingels
Mrs. T. W. Ingels
Mr. Lewis Reeser
Mrs. Lewis Reeser
Mr. Max Kruemmel
Mrs. Max Kruemmel
Mr. J. B. DeHoff
Mrs.J.B.DeHoil
Mr. Scott B. Doing
Mrs. Scott B. Doing
Mr. John K. Brown
Mrs. John K. Brown
Mr. Lewis Brown
Mrs. Lewis Brown
Mr. C. Bahr
Mrs. C. Bahr
Mr. W. D. Reeser
Mrs. W. D. Reeser
Mr. T. C. Atkins
Mrs. C. W. Hull
Mr. James Anstine
Mrs. Georgia Baylis
Mrs. Anna Ridgway
Miss Nellie Brown
Miss Dora Ridgway
Miss Alberta Hoffman
Mr. John F. Russom
Mrs. John F. Russom
Mrs. Frank Brown
Miss Carrie Atkins
Miss May Dunkerley
Miss Lizzie Dunkerley
Mrs. E. Petersen
Miss Amy Doing
Miss Florence Doing
Miss Addie Doing
Mrs. Sarah Biden
Miss Mary Brown
Mrs. C. J. Hull
Mrs. A. C. Amos
Miss Florence Brown
Mr. T. Brown
Mr. C. Petersen
Mrs. Henry Hinks
Miss Emma Russom
Miss A. M. Petersen
That same evening they agreed that they should call themselves "Christians", and that the Church should be called the "Lansdowne Christian Church," with the Reverend J. B. DeHoff as pastor.